What Makes a Great Website?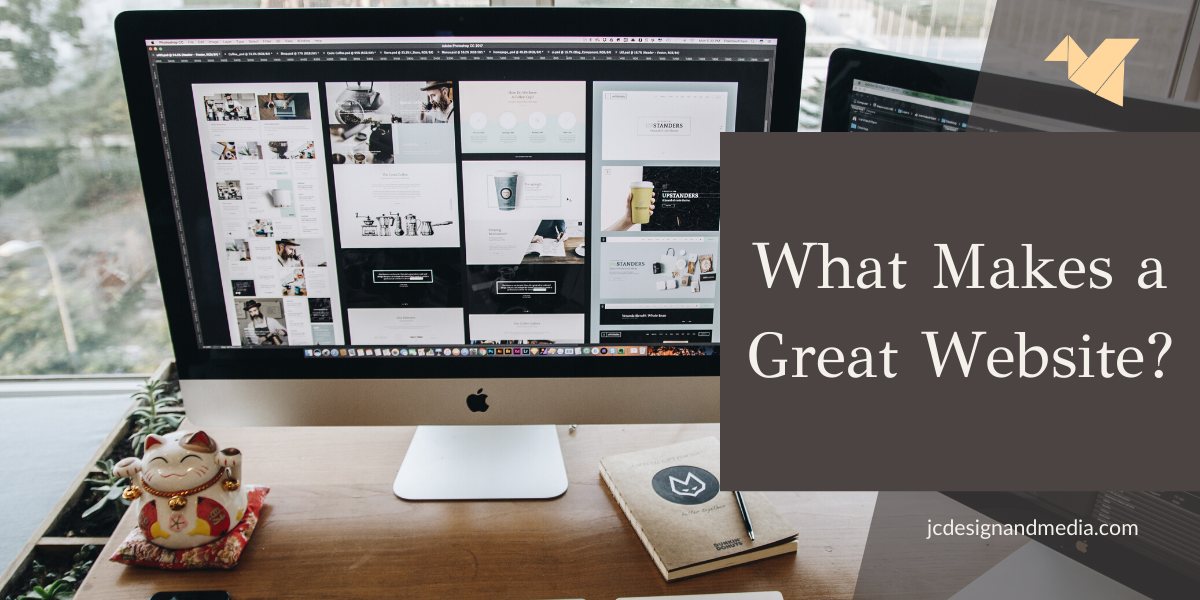 Have you ever been browsing the Internet for something and stumbled across a website you just couldn't tolerate? While website design may appear to be a simple concept, there's actually many things that need to be considered. We've done previous blog posts about identifying when you should improve your website, but what the actual design and layout of it? What are the features that make a great website?
Let's break down the process of visiting a website into three different parts: first impression, navigation, and messaging. From there you can determine what you should and shouldn't include.
First Impression
The first impression of a website is the most important part. You want to appeal your audience to look further into your products or services, features, and story. Not to mention, they need to be able to get a sense of what you do or what industry you're in within the first ten seconds. Otherwise, the point is moot.
An easy way to accomplish this is to make your website as eye-catching as possible to your target visitor. To know what is attractive to them means you need to really know and understand your ideal customer first and foremost. You can appeal to them visually with banners, large photographs, and unique graphics. But, the messaging is just as important because if you don't relate to them and their needs or desires, you've lost them.
Having a flashy website doesn't necessarily mean you'll draw people in, though; it depends on your target audience and how you have it all laid out. Depending on your website's purpose, simplicity may be better.
Features that may chase your audience away
One thing that many websites have that most consumers hate are pop-ups.
Pop-ups do exactly that: pop-up on the screen when visitors land on your site. They usually are used to ask people to signup for an email list or offer some kind of promotion. On certain sites that need ad revenue to thrive, they will ask you to turn any ad blocker programs off.
When used properly, they can be a great website tool; however, they tend to annoy people more than anything else, especially when it's the first thing that happens when you land on a page. They tend to be less annoying if they're in a banner format at the bottom of the page, or show up when you visit the site more than once. Placement and times they appear are key when utilizing this marketing tool.
You also want to be wary of splash pages, which refers to a page that precedes your actual website and appears immediately before you can anything else on the site. Typically, a splash page acts as a "welcome" page.
A splash page in itself isn't necessarily bad, but you need to know they aren't for everyone. While they can be a flashy tool to create an added experience for your customer, they can also prevent visitors from exploring your site any further.
Navigation
This is probably the second-most important part of your website. Your navigation is how your site users will sort through all the information on your website. If the links on your website are too difficult to navigate through or they can't tell what products or services you offer, that will definitely cause them to immediately leave your site.
Navigating your website should be extremely straightforward. You want to have the key information on your site easily accessible. Using a visual hierarchy makes the information easy to digest. While you want to make sure your website is unique, it still needs to be user-friendly. Like we said previously, simplicity can be your best friend.
The biggest no-no of navigation is misleading your website's viewers. Have you ever tried to download something on a website and were bombarded with multiple download links that weren't the real one? This is called dark pattern, and it's a type of UI (user-interface) that tries to trick users into doing things they did not intend for.
Dark patterns are more than false download links. Another common tactic is confirmshaming. You would see this if you wanted to decline signing up for the website's newsletter, and they give you a text that would guilt or shame you into accepting. You can read more about dark patterns here.
Messaging
Our final point is about the messaging for your website. Can your users tell what you're offering to them? Do you appear to be trustworthy? People are more likely to continue browsing your website if they can learn more about you. Younger generations like it if a company's morals align with their own, so don't be afraid to be extremely up-front and open.
You can show off your personality with more than word descriptions. Using visuals makes your website more appealing. For example, you can showcase fun company photos or include a quiz.
Keep the ten second rule we mentioned in mind; show your audience what you can do for them within that time frame.
One last note:
Websites are not a "if you build it, they will come" tool. Your website can still look impressive and have great copy but still be missing the mark on converting visitors. In order to know what's actually working with your website and what's resonating with your audience, you need to be analyzing the traffic. Tools like Google Analytics help show you what pages people are leaving right away and how often, where there may be confusion, and more. Avoid playing the guessing game with your website; it's your online home, and you need to keep it in tip top shape.
---
Lastly, the most important thing to consider when trying to make a great website is to remember your audience isn't dumb. Keep things easy for them without being insulting. It's all about creating a user experience.
If you ever need assistance making your website, we'd love to help you. Contact us today!