Our Favorite Super Bowl 2020 Ads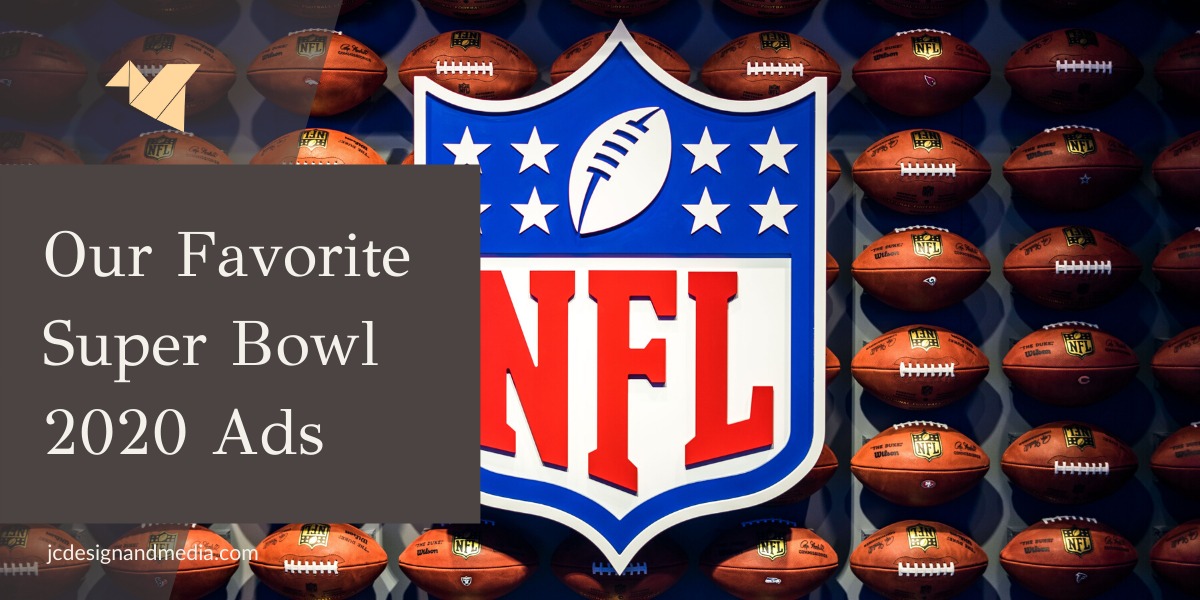 While the Super Bowl is well known for the parties, gatherings, and team rivalries, it's well known for one thing people otherwise typically hate: the commercials. Super Bowl season is the prime time for advertisers and companies to bring out their best campaigns. While many enjoy Super Bowl season for the obvious reasons of football, many also like to see the new creative, funny, and heartwarming advertisements that run between the game.
While not all of the commercials were a touchdown, the following were our personal favorites of the ads during Super Bowl LIV.
Jenn's Favorites:
Jenn is the owner, designer, and creative director of JCD&M. She loves using her skills in PR and art to make clients stand out from the crowd.
Jeep® | Groundhog Day: Although I was born in California, I was raised in Punxsutawney, Pa., so I grew up with Groundhog Day (the movie and the actual holiday). But that's not the only reason why I love this commercial so much. The timing was perfect (Super Bowl Sunday fell on Groundhog Day this year), they brought in a few other original actors from the movie, and they made the narrative a reliving the same day over and over a little more positive this time around using their own product. Cute, nostalgic, and comical — I loved it all around.
Loretta | Google Super Bowl Commercial: I didn't let my husband see as we watched the big game together, but this commercial absolutely brought me to tears. Despite this, I loved it. It also reminded me of the simple joys life brings that mean so much that we always hope to remember. It was so heartfelt and showed how Google's technology can be used for good. I'm not sure much else needs to be said — just watch it if you haven't already.
Veronica's Favorites:
Veronica is the latest addition to JCD&M. She is the PR intern finishing up her final year at Indiana University of Pennsylvania. In her spare time, she loves theater and writing.
Reese's Take 5 | 'Rock': Compared to all the other Reese's candy products, Take 5 is definitely an underrated one. In this ad, they're acknowledging that it's not appreciated as much as the others. Taking many of the common expressions we love to use very literally, it talks about why you should try Take 5's for yourself.
Sam's Favorites:
Sam is a freelance writer and marketing intern for JCD&M. When she's not playing video games or spending time with her close friends, she's developing content for clients.
OLAY® | #MAKESPACEFORWOMEN: While some are already dubbing this as a political commercial (similarly to the Gillette one), I think it's simply encouraging young girls to participate in the male-dominated STEM fields if it's their passion. I really like that they used their advertising platform to promote Girls Who Code, which is a nonprofit that encourages girls to engage in computer science. With every tweet to the Olay Twitter account with the hashtag #MAKESPACEFORWOMEN, they'll donate $1 to Girls Who Code. Whether you view it as political or not, I think it's still an important case of encouraging children to pursue their interests.
Doritos® | The Cool Ranch feat. Lil Nas X and Sam Elliott: Many Super Bowl commercials take advantage of pop culture and celebrity cameos, and this year was no exception. I personally enjoyed this one the most out of all of them because of how the cameos they used seem to fit their target audience. Featuring American rapper Lil Nas X and his viral song "Old Town Road" really hits the younger audience who will recognize and appreciate that. Bringing actor Sam Elliot into it really ties together the Western theme, along with appealing to older audiences who may have loved his classics. Best of all to me is the fact that the commercial ties together the essence of the "Old Town Road" remix featuring Billy Ray Cyrus (who has his own cameo at the end): a classic star joining together with an up-and-coming one to appeal to all ages.
---
These are just some of the funny, witty, and heartwarming ads that ran at this year's Super Bowl. It's always interesting seeing what kind of content brands can come up with to outdo each other to promote themselves and good causes. What were your favorite ads this year?