Going Remote: Tips on Working from Home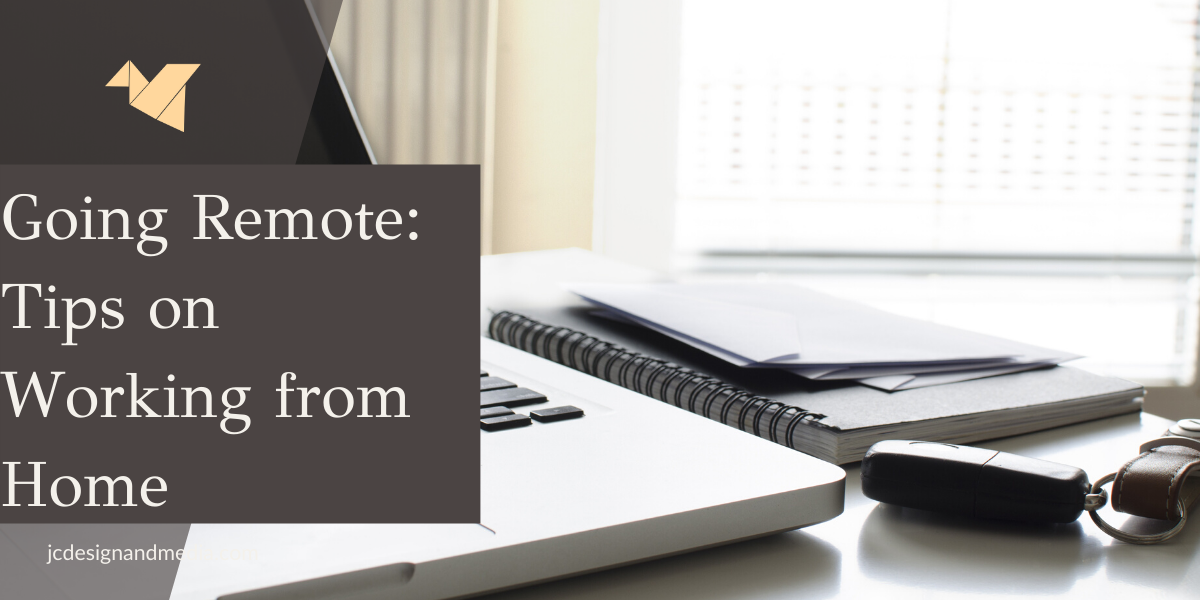 In response to the pandemic sweeping the globe, businesses around the world have closed their doors and gone digital. Thousands of employees now find themselves working from home, and for some, the transition from office to online is anything but a clean break. The uncharted territory of remote work can be difficult to navigate. Luckily, JC Design and Media's own Jenn Clark was able to share the wisdom she's accrued from launching her own remote business and working from home.

Q: How do you manage multiple tasks? What resources would you recommend for task organization?

A: I used to be a chronic multi-tasker, a habit that I developed during my business management days. But, I've since learned how unproductive that is, and I focus working on one task at a time. I always write out my weekly to do lists Sunday evenings and note who on the team will be responsible for each task. That helps keep me and everyone I work with on track. Being a visual person, each task also has a little block I draw beside it so that I can literally check off each item as I finish them. Asana has been extremely useful to me for project management and remote organization because it can work like a virtual kanban board. Google Drive is another helpful tool for me to organize content for clients. There are so many different kinds of tools you can use for task and project organization, but the key is maintaining simplicity and finding what works best for you and your team.

Q: How do you prioritize tasks?

A: I determine what needs to be done first based on goal dates or upcoming events where clients may need marketing materials. Each project I work on has tentative due dates, and depending on what is coming up first for the due dates is where my main focus is. Also, when it comes to print design work, some items may take longer to print than others (ex: a banner or book design) so that plays a role in my prioritization process too. Each day, I try to do the 1-3-5 process, where I note the one big task I'll accomplish, the three medium-level tasks I'll work on, and the five little tasks I'll do. This is also based on the timelines for each project and each client.

Q: What are the benefits of working from home? What are the biggest challenges?

A: One of the biggest benefits of working from home is not having to fight traffic every day. I can get up, get ready for the day, and get right to work instead of having to feel like I need to "settle in" to the office. I can also make my own lunch from home, which helps me save money, and not to mention, I have fewer overall distractions. For me, it's also personally nice because I can be at home with my dog during the day. Meetings can still be done face-to-face virtually, and so far, this has not been an issue for me at all with clients. The biggest challenges include that lack of social interaction throughout the day; sometimes it's nice to shoot ideas back and forth with another person in the office or to even have someone to relate to right beside you.

Q: What is your schedule like? How does a schedule for remote work differ from working on site?

A: My schedule is about the same as it would be working in a traditional office setting. When I first started dabbling in remote freelance work a few years ago, I had a hard time creating limits for myself. Now, I've been able to create healthy limits and start my day at the same time each day. Some days, I work longer than others, depending on my projects, but for the most part, I still have normal hours. Having a dedicated work space in my home also helps to create those limits.

Q: What motivates you? How do you stay motivated throughout the work week?

A: While there are days I may be in more lounge-type clothes than others, I still make it a point to get up and get dressed out of my pajamas to work. Granted, I'm not wearing a blazer or pants suit, but wearing regular clothes helps make it more real for me and keeps my mind in the game. What motivates me is getting to do what I love and creating magic with my clients. I try to make work fun by keeping things light while maintaining professionalism, both with my team and clients. I can talk to clients about business but still joke around with them. The biggest compliment I receive is when they refer people to me, and knowing they love what I do helps keep me going. I also work with a lot of clients who are passionate business owners with a greater purpose for their companies, and knowing I'm helping them achieve more so they can do more motivates me too.

Additionally, I take breaks. I try not to overdo it and will go for a walk with the dog or switch gears to a different task if I am struggling with motivation. Doing something active or taking a little breather to find inspiration online, even listening to a podcast, helps me get back on track. It can be hard when there is such a high demand for me to be creative 24/7, so it's all about that healthy work-life balance and following through on self-care.
---
As you're getting settled into your new home office, keep these tips in mind. Remember to practice organization and self-care, and if you're in need of help getting your brand off the ground from the comfort of your home, reach out to us here at JC Design and Media.