Get Your Brand Ready for the Holidays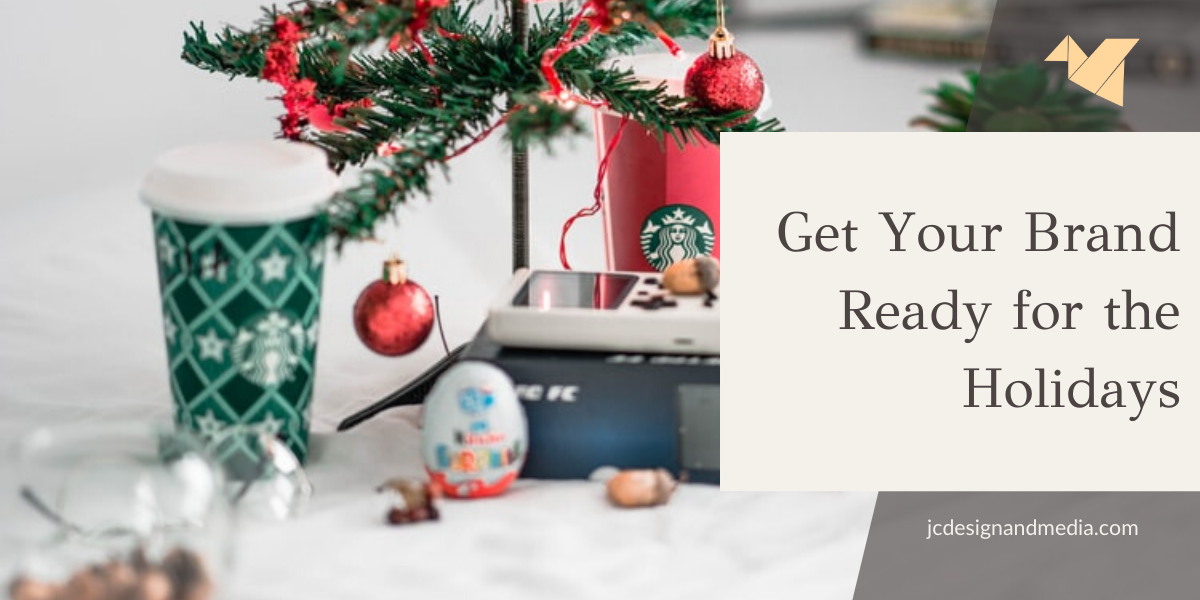 The holiday season is a fun time to show gratitude and celebrate with friends and family. But have you ever considered how your business can benefit from the holidays too? Adjusting your brand for the upcoming holiday season shows customers that you're relatable and thinking about their needs. Here are some ways you can get your brand ready for the holidays.
1. Participate in #GivingTuesday
Giving Tuesday is a movement that occurs yearly on the first Tuesday after Thanksgiving. It's a day that encourages people to give back to the community. This year's Giving Tuesday takes place on December 3rd.
Here are some ideas on how your company can campaign this Giving Tuesday:
Give donors temporary tattoos of your company logo
Partner with a local restaurant
Host a cook-off competition (or any local competition)
Have a field day, picnic, or other family-friendly event
Hold a car wash
Host a seasonal fundraiser
2. Create fun graphics
Creating fun and festive graphics for your social media and website is a great way to spread some holiday cheer. For example, you can have your designer add a Santa hat to your logo or incorporate falling snowflakes to your Facebook cover graphic or in an email GIF. Your followers will see that you're active online and not a "stale" business. If you have company holiday photos done, those can be fun to incorporate on your website as well. And speaking of holiday photos…
3. Send out holiday cards to your customers
Receiving a special card for the holiday season is a classic experience, and your customers will appreciate the acknowledgement they feel if you send them a personal card. This is a great way to show your customers you're more than just a company.
4. Host a "Thankful for You" party for clients only
Going along with our last idea, this is another way to show your appreciation for the clients that you have. You could fill goody bags with promotional items with your company logo on them, or have a photo booth where attendees can take photos. If you theme your party around a campaign of yours, put hashtags or campaign slogans on the images. Don't forget to share them on social media to really show off your appreciation for them!
You could also give your clients and party attendees a chance to win free services for a month.
For holiday parties, hold a hot chocolate bar or serve some holiday cookies. Lastly, create a family-friendly event to show that you value community and coming together.
5. Start planning for the new year
While the new year isn't necessarily part of the holiday season, it's important to get started on any changes that you want to implement in the new year. If you have specific ideas or goals, such as showing off new products or special services, you need to consider a possible website redesign that will go along with it.
You can also encourage your followers and customers to set their own goals and share them with you on social media.
6. Participate in Small Business Saturday
Small Business Saturday takes place on November 30th this year, and though it's only one day, its purpose is to encourage people to support small business year round. Did you know that about 67 cents of every dollar spent at a local business remains in the community? With this information at hand, American Express created Small Business Saturday to be celebrated every Saturday after Thanksgiving.
Here's how your business can join in on Small Business Saturday: host a Main Street or individual store event, join in on any local event that's already happening, offer discounts the week of Small Business Saturday, distribute promotional flyers (which can be found for free on the Shop Small Movement website), etc.
7. Encourage followers to share what they're thankful for
Spreading the holiday spirit can be as simple as asking your followers what they're thankful for. It also helps humanize you and your business, especially if you get a little personal and share what you're thankful for as well. One way you can expand content is by sharing an image of each individual staff member each week stating why they're grateful this year. This also helps your audience get to know the people behind the scenes, humanizing your business even more.
You can also share gratitude through email by sharing a personalized letter to your subscribers.
8. Make some holiday-themed content
This is probably the simplest and most obvious way, and that's the beauty of it. You can make videos, live streams, change your landing pages to fit a festive theme, and more. Make any holiday themed video fun and exciting by hiding a promo or discount code within the video. Hold a mini photo contest by sharing a basic (or funny) holiday related image and encourage your followers to "caption this!" Share tasty holiday recipes, DIY holiday decorations, show off a festive-looking office with videos and images, etc.
The fun part of holiday content is that there are pretty much endless ideas on how to spread the holiday excitement on your social media.
One example of how simple holiday content can be is when L.L. Bean held a #12DaysOfPuppies campaign in 2016. With this content, they follow the traditional 12 day countdown till Christmas by posting pictures of adorable puppies each of the 12 days.
9. Discuss gift ideas
One of the biggest stresses of the holiday season is deciding what to buy your loved ones. By creating gift bundles of your products, you can possibly lighten the load on your customers' holiday stresses of picking that perfect gift. You can even collaborate with another business and include some of their products within a gift bundle. Also, make sure when sharing images of your items that they are high-quality with excellent lighting.
10. Create a holiday-themed contest
There are many ways you could have your followers enter a contest for the holidays. It all depends on what your company's focus is. Creating a competition that doesn't align with your brand may confuse your followers, so think of something that makes sense for you to do. One of the easiest ways is encouraging them to comment on your page or submit a photo. As for the prizes, you could give away money, gift cards, your own product or service, and more.
---
The holidays are a great time to bring everyone together, and you can show your spirit with any of these options. What does your business do during the holidays? Let us know!