Establishing Brand Values Through Logo Design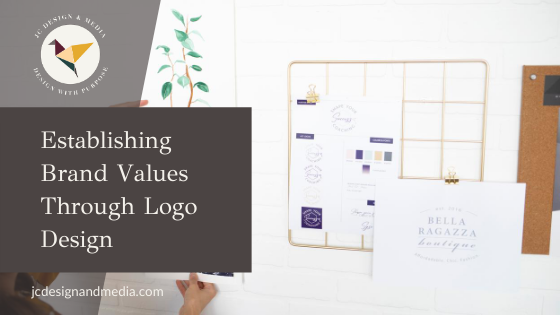 We're more than halfway through 2020, and it certainly has been an interesting year. Between fundamental changes in our daily lives due to a pandemic, to calls for social reform across the country, changes have been sweeping the nation (and world). The look of our branding at JCDM has been no exception. 
Owner and Creative Director Jenn Clark is a firm believer in embracing change, and that's why she decided to make the leap to tweak the brand. Jenn's brand of her company is a part of her, and she felt that her old logo wasn't reflecting it as much as she wished. Let's take a deep dive into the JCDM branding and what it means to her.
Embracing creativity and innovation
Creativity has been a major part of Jenn's nature since her youth. She began drawing and writing short stories when she was a child. Even now as an adult and business owner, she tries to work a creative twist into every request from her clients. She greatly encourages creativity at every level of the business phase so her clients can thrive. Jenn challenges her own creativity and innovation skills constantly with each client; when she designs a logo or website, it's to fit the company's style rather than her own.
Embracing heritage
Jenn's parents have always supported her, which is why she chose to use the company name and mark to pay homage to them. Her mom is half-Japanese, and she's proud of that heritage. This was always the meaning behind the origami crane in the logo, but she decided it needed more flight.
A flying bird symbolizes balance, independence, and new ideas, which are all ideals she holds in her brand. The crane itself represents happiness, longevity, and good fortune in Japan and many other cultures. These ideas also represent her brand because of her approach with clients; she focuses on long-term results over short-term.
Embracing clients
While it may not work for all businesses, Jenn's brand is also a part of her. She makes it work by representing her personality and ideals inside her business. Jenn takes her marketing, graphic design, and PR work very seriously, but not in a way that comes off as stuffy. While she wants to fulfill her clients' needs as efficiently as possible, she firmly believes they can have fun in their client/contractor relationship.
Additionally, the independent contractors she teams up with for projects also hold the same values and work ethic, ensuring that the end product can remain consistent. 
Jenn's brand meaning is her promise to her client:
I will show up and do the work I agree to do without being asked.

I will use my creativity to help you create a more valuable brand so you can accomplish even more in your business.

I will help your business become more visible to your audience and stand out against your competitors.

I will help you establish a significant presence in the market that attracts and retains loyal customers.

I will help you deliver your promise to your own company through company blueprints, guidelines, and more.

I will work with you to come up with fresh new ideas.

I will always be organic and transparent in my efforts and conversations.
Tweaking the company logo to better represent her brand
Jenn's goal with her brand representation is to appear warm, inviting, strategic, honest, and creative. The use of warm, earthy tones is not only used to show her approachable demeanor, but is also meant to honor her Japanese roots.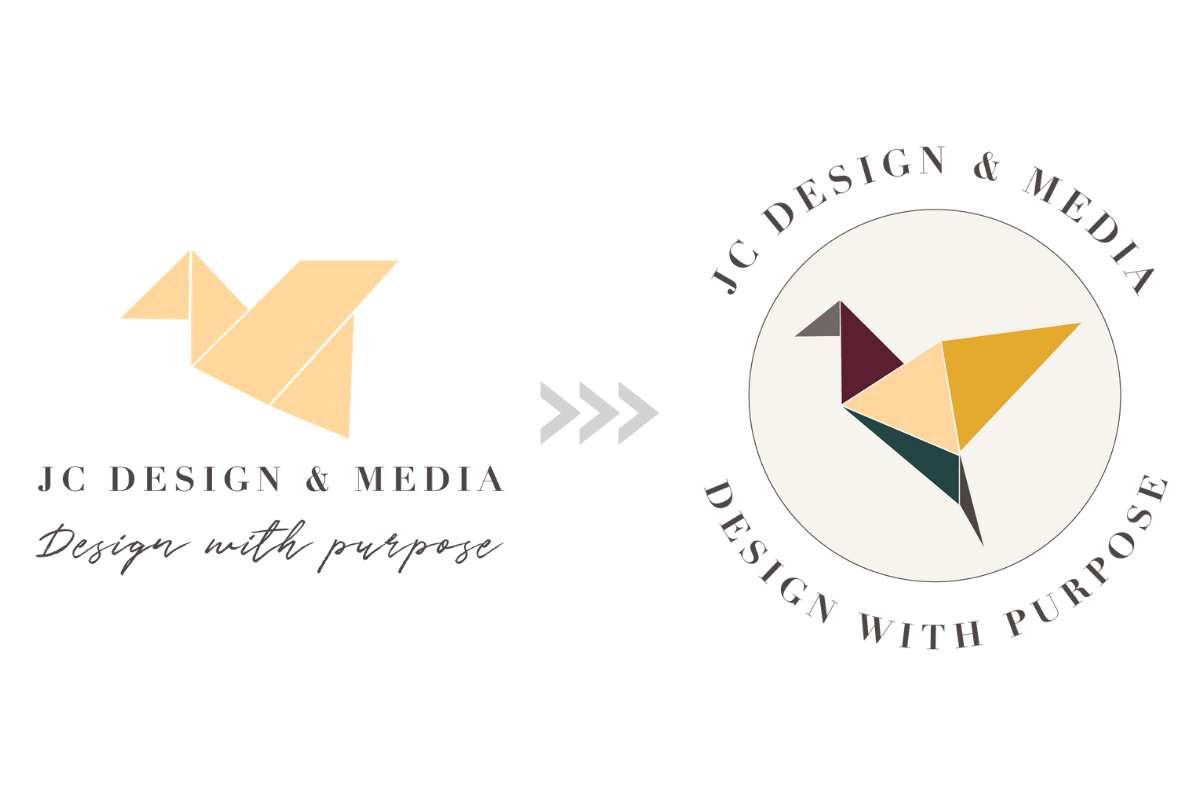 Yellow represents creativity and positive energy, which personifies the entire business.
The burgundy maroon color is featured in the logo because red is often used in Japanese art and it signifies passion. However, a bold red can come off too aggressive. So she settled on a maroon color because purples are some of her favorite colors. 
The golden yellow color indicates a warm and inviting feeling while being less bold.
Green suggests growth. Not only does it represent financial growth, but also professional and personal growth. This addition is important to Jenn because she believes we should always be growing and never standing still.
Overall, Jenn hopes that she and her company are viewed as approachable. At the end of the day, she wants to create stronger relationships between businesses and people.
"I want people to see my brand as a solution to a potential missing piece of the puzzle. I'm here to help them reach their goals–to accomplish the bigger picture. I'm the Robin to their Batman, if you will. They are saving the day, and I'm making sure the world knows they exist and helping them stand out," Jenn said.