Can You Afford a Free Logo?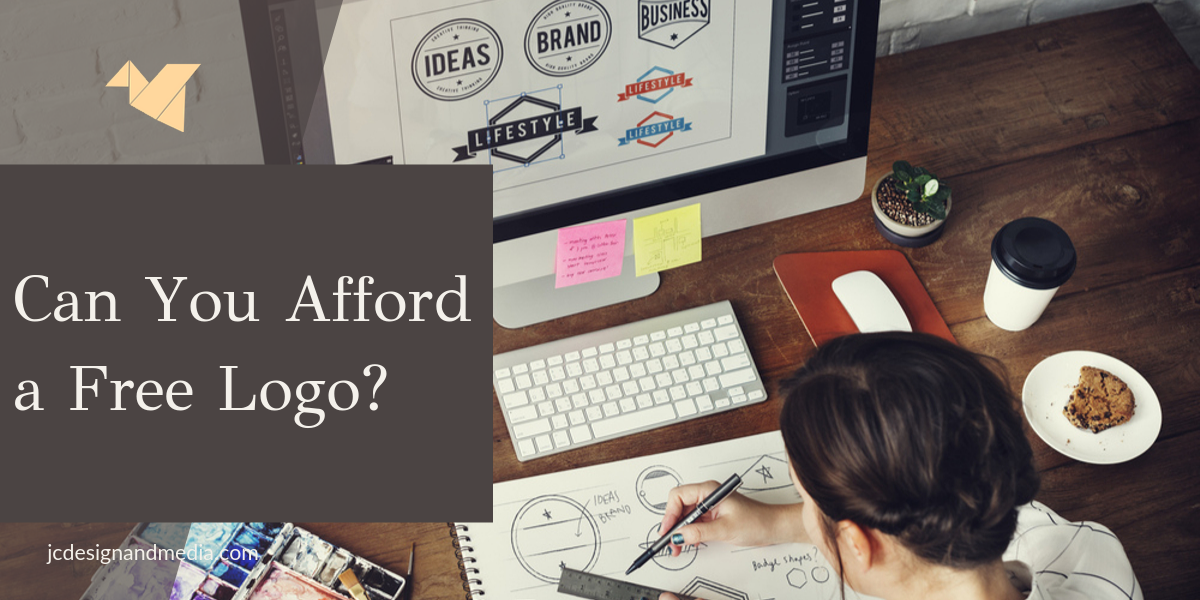 Having your own logo for your company is the easiest way to establish your brand and work on appealing to your target audience. But shortly after your business is launched, you may struggle to afford to hire an agency to create your logo. Because let's face it: not everyone knows how to use graphic designing programs nor do they know other aspects of design, such as typography and color theory. That's where free logo makers and generators come in. These websites and programs can help any business on a budget.
However… are these free logos worth it? Let's take a closer look at what using a free logo will entail.
Lack of Personality and Personalization
While logo generator sites are low cost, they lack that personal touch. In an earlier blog post, we talked about the "rules" for creating a logo, which just gives some tips on how to create the best logo for your business. One of the biggest pros of hiring a design agency (or making one yourself if you know about graphic design) is that you can customize the look to appeal to your audience and follows your brand story. With the limited range of options in a free logo maker, you can't do that.
Limited Options
Speaking of limitations, depending on the website you use, you may have a few options and variety. However, logo creation sites utilize templates and other graphics that have limited styles and colors. They are also restricted to a minimum amount of fonts. Considering that, it's pretty likely you'll create a generic logo that can be easily recreated by anyone else.
Not to mention, you run the risk of having the same logo as someone else, perhaps in your same zip code. JCDM owner Jennifer Clark came across this multiple times throughout her career. In fact, she worked with a business to rebrand them due to having a similar logo to another business in the area. This not only caused confusion among the client's existing audience but also prevented potential customers from being able to find her. Luckily, the client knew where the problem originated and sought professional help to resolve it.
No Variations
Ideally, your logo should work in multiple formats and dimensions, meaning they can easily work on business cards, letterheads, banners, flyers, etc. Using a logo generator means that you're only getting one logo.
Missing Out On Additional Support That Design Agencies Provide
Many design agencies (like ours) do more than just create a logo or brand design for you–we can educate you on brand management and give other advice, such as how to build awareness, create a marketing strategy, brand placement that aligns with your company goals, and more. Having a relationship with a design agency is beneficial because you can get help that is tailored specifically to you. A design agency can know exactly what you need and what your business is aiming for. You can't get that with a free logo site.
Final Thoughts
Free logo sites can be beneficial if you're just starting out, have extremely limited funds, or are only using it for a fun side project, such as a blog. They have their limitations, but they're quick, easy to use, and inexpensive. The most important thing to consider is the future of your company and where you plan to take it. If you feel that a basic logo is beneficial for you right now, then feel free to use a logo creation site.
Know that eventually, though, if you want to grow, you'll need to reach out to a graphic design professional to help with your logo design. It may cost money, but the investment will be worth it. Remember: a logo represents your company, both visually and personally. It's the first impression people have of you and connects your customers to you while also drawing in new clients. Truly, it's one of the most important branding investments a company can make.
Have you ever encountered a company with a free logo? What did you think of it? Let us know!